Environmental News
Fruit Of The Loom, Inc. Named Recipient of Environmental Protection Agency Climate Leadership Award
Building on its leadership in corporate social responsibility efforts, Fruit of the Loom, Inc., has been named a recipient of the Environmental Protection Agency (EPA) Climate Leadership Award. The award – a Goal Setting Certificate for Excellence in Greenhouse Gas (GHG) Management – recognizes organizations that publicly report and verify corporate GHG inventories and set aggressive goals to reduce those emissions. Fruit of the Loom, Inc.'s commitment to reducing electricity-related GHG emissions by 40 percent by 2015, set against an SCS Global Services (SCS)-verified baseline, earned it the honor.
"Fruit of the Loom seeks the highest standards, not only in our business but in our commitment to a sustainable future," says Rick Medlin, President and CEO, Fruit of the Loom, Inc. "To achieve those standards, we set aggressive goals in everything we do and create action plans to help us achieve those goals. Our greenhouse gas emission reduction goal is another example of our focus on efficiency and innovative solutions to support our business and the planet.".
Download Press Release
Fruit of the Loom Establishes Aggressive Greenhouse Gas Emissions Reduction Goal
Fruit of the Loom has established a goal of reducing carbon dioxide (CO2) emissions by at least 40% by 2015. This goal will be accomplished by reducing fossil-fuel generated electricity consumption with renewable energy and by continuing to evaluate and reduce the Company's transportation miles, chemical consumption, fuel consumption, and by replacing chemicals that adversely affect the environment.
Fruit of the Loom Sets Goal to Reduce Carbon Footprint by 40%
In 2007, Fruit of the Loom publicized its first environmental goals. Now achieved, Fruit of the Loom engaged SCS Global Services to verify 2012 emissions data, which will be used as the baseline year to create second generation goals.
Read more about Fruit of the Loom's aggressive environmental sustainability goals at the PR Newswire and Consumer Goods Technology Web sites.
Fruit of the Loom, Inc. Celebrates Honduras Green Day
On Saturday, June 22, 2013, Fruit of the Loom, Inc. celebrated Honduras Green Day with the participation of Merendon and the apparel plants. A total of 2,140 trees were planted, along with preparing 3,000 bags with soil for new trees. The event took place in the hydro-electric dam El Cajon with the collaboration of ENEE and Acuafincas, a group that grows tilapia in the dam.
Aside from the great success we had in planting 2,140 trees, we had a total of 543 volunteers and approximately 4,300 hours of volunteer work.
Below is a picture taken at the entrance to the hydro-electric facility with some of the volunteers from the event.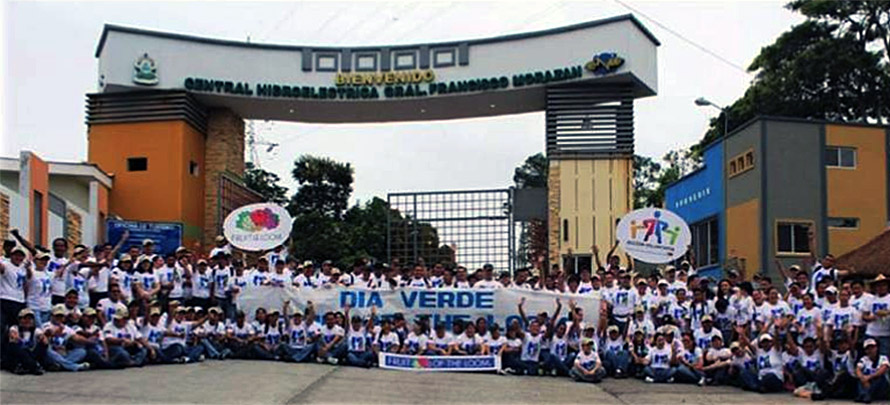 Sonoco Recycling Names Fruit of the Loom a Sonoco Sustainability Star Award Winner
Sonoco Recycling, Inc., one of the largest packaging recyclers in North America, announced recently that it has awarded Fruit of the Loom's Palmetto Distribution Center, located in Summerville, S.C., with a gold-tier Sonoco Sustainability Star Award for going landfill free. Plant Manager Jay Medlin challenged his team to strive for this high goal, calling on every employee in the facility help attain it. In awarding Gold-Star status, Sonoco recognizes that Fruit of the Loom has demonstrated a strong commitment to preserving natural resources, focusing on sustainability, and has achieved at least 99 percent landfill diversion.
Download Press Release
Palmetto DC wins 2013 Recycling Award
Fruit of the Loom's Palmetto Distribution Center was recently recognized as a 2013 Smart Business Recycling Program Award winner by the South Carolina Department of Health and Environmental Control. Being recognized by the state as a leader in protecting South Carolina's natural resources, the DC reached "landfill free" status in 2012 and recycles nearly 1,700,000 pounds of material each year. Palmetto is also able to contribute to the reuse of 104 tons of cardboard by sending used pieces to manufacturing facilities to be repurposed in the manufacturing process. In addition, the Palmetto DC has generated $60,000 in revenue for the company through the sale of recyclables.
Great job, Palmetto!
Download Press Release
Fruit of the Loom, Inc. Implements Environmental Programs
Fruit of the Loom, Inc. is leaving a positive impact on the communities in which it manufactures in Central America. Through the development and use of hydroelectric and biomass energy programs, the company has made a commitment to move away from fossil fuels as a source of energy in manufacturing.
"As the condition of the environment is becoming a growing global concern, Fruit of the Loom, Inc. realizes how our actions in one location impact the overall quality of the global environment." a company spokesperson said. "For this reason, we understand the benefits of reducing our environmental impact in every location where we conduct business."
The programs, being implemented in Honduras, will produce approximately 307,900 megawatt hours of electricity from biomass energy crops and water, which will reduce carbon dioxide emissions by 212,314 metric tons annually. This CO2 reduction is equivalent to removing 41,630 passenger vehicles from the road or providing electricity for 26,473 homes in the U.S. for a year.
In addition to the environmental impact, the company's projects will provide approximately 1,200 additional jobs in Honduras.
Biomass Energy
Biomass fuel, created by planting, harvesting and burning specific types of grassy crops, emits zero sulfur emissions—which reduces the amount of acid rain events that occur annually—and produces less ash than coal, with the ash that is created being able to be used as a soil amendment in farm land where the biomass energy crop is grown.
Biomass energy crops require less fertilization than regular farm crops, and therefore have less adverse environmental impacts. In addition, biomass electricity production is considered to have a net-zero carbon dioxide emissions factor because the CO2 emitted during biomass combustion is equal to the amount of CO2 absorbed by the plants during the growth phase.
Fruit of the Loom, Inc. is currently utilizing biomass energy in Honduras to reduce carbon dioxide emissions by 76,541 metric tons annually, the equivalent of taking over 15,000 passenger vehicles off of the road or providing electricity for approximately 10,000 homes in the U.S.
Biomass programs also benefit the local community. By contributing to improved air quality, locals should see an improvement in human health conditions associated with respiratory issues, and the company will be able to produce a substantial energy surplus that will be available for use in the surrounding area.
Hydroelectric Power
Fruit of the Loom, Inc. invested in building a hydroelectric plant in the region that will help offset the use of fossil fuel-generated electricity. The plant has a net capacity of 10.9 megawatts, and the capacity to support two of the company's manufacturing facilities, reducing the company's carbon footprint by 4,009 metric tons of carbon dioxide annually. This reduction is equivalent to taking 786 passenger vehicles off the road or providing electricity for 500 U.S. homes for a year.
Download Press Release