FOTL El Salvador Partners with Local Rotary Club to Donate Wheelchairs to Employees' Families in Need
Forty-one children and adults with a range of disabilities and illnesses received wheelchairs
Gerson David Medrano Murcia arrived very early in the afternoon of Nov. 14 to Fruit of the Loom's Joya de Ceren Plant in El Salvador. At birth, Gerson was diagnosed with poliomyelitis, a disease that complicated​ his physical development. However, through a partnership forged between Fruit of the Loom and the local Rotary Club, Gerson received a new wheelchair, which will facilitate and improve his quality of life.
"When Gerson was born, the doctor said that the child would never have a normal life," explained Josue David Medrano, Gerson's father. "Now he is four years old and next year he will go to kindergarten. This wheelchair will certainly aid in his development."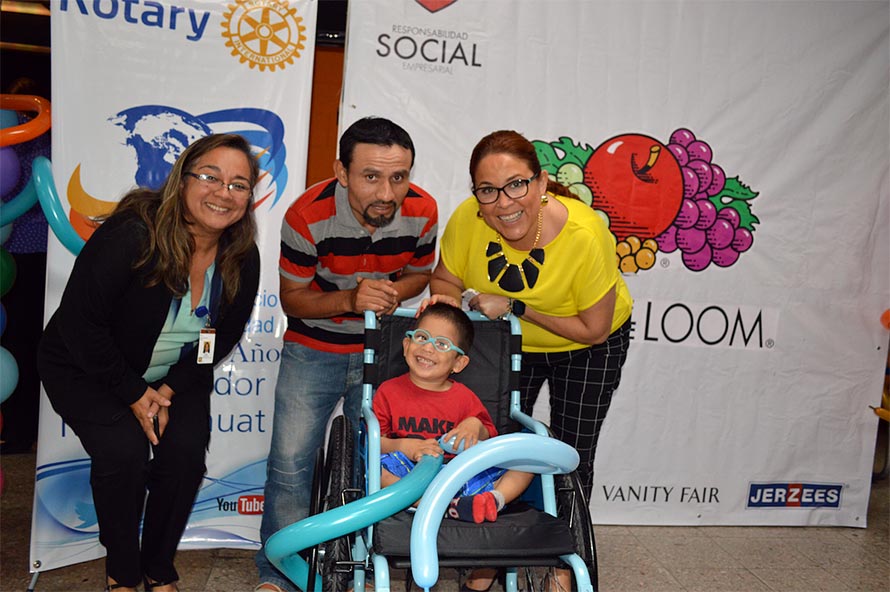 Like Gerson, forty-one other relatives of employees -- ranging from children to adults, all diagnosed with varying degrees of disabilities and/or illnesses -- received donated wheelchairs during the event. The Company carried out this activity with the well-being of the relatives of Fruit of the Loom employees in mind. Fruit of the Loom's local CSR programs in El Slavador continuously seek to promote the welfare of employees and their families.
The wheelchairs were donated through the Rotary Club and World Vision, a global Christian humanitarian organization. In preparation of the event, approximately forty volunteers from Fruit of the Loom gathered to assemble the wheelchairs, donating their time and effort to have them ready for each of the beneficiaries. The work was done in conjunction with Human Resources departments of each plant to accomplish thier goal.